Dynamic Symmetry – The Biggest Cliché Ever Heard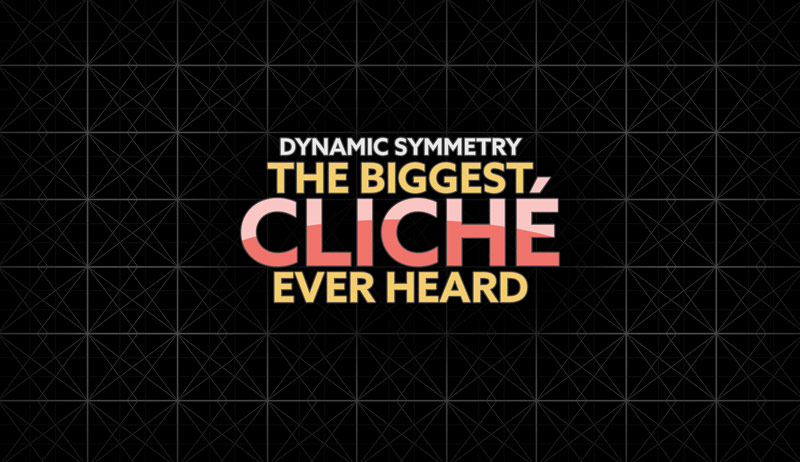 #696
Hey everyone, thanks for joining in to show support!
Today we are going to dig into dynamic symmetry, and a popular belief that is circling around the Internet. What is this horrible cliche, and what does it mean for the art world? Let's find out now!
Is There Really a Cliche?
Dynamic Symmetry
If you've read any articles on dynamic symmetry outside of this site, or have watched any videos on the topic, you may have noticed a reoccurring phrase. It's the phrase, "if you put enough lines on an image, something is bound to line up." This phrase comes up so much that it has become the biggest cliche ever heard when it comes to dynamic symmetry. In fact, the comment below was recently made on an older analysis of Peter Paul Rubens (see Day 254), and that's what inspired this article.
This viewer wrote, "If you throw a hundred lines on a picture they're bound to collide with something."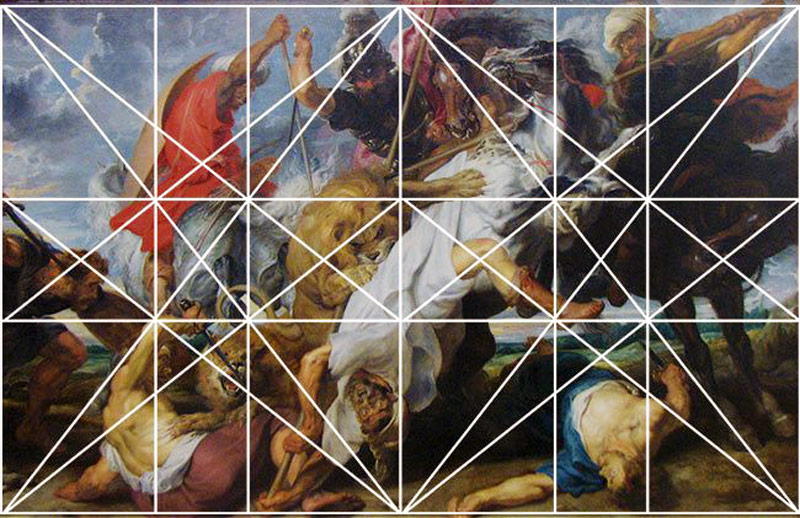 I blurred out all of the names as to not give them credit for trolling or to cause them any embarrassment. Being cliche is nothing to be proud of.
The actual definition of cliche is,"a phrase or opinion that is overused and betrays a lack of original thought." Can noob photographers and artists really have a mob mentality and create a cliche out of a compositional tool?
Well, they did it with the rule of thirds didn't they (see #396)? It doesn't matter who is teaching the rule of thirds, they repeat it the same exact way. "It gets the subject out of the middle, it moves the eyes around the image, it creates a more pleasing image, etc, etc." Yet, none of them can prove ROT actually does this. If they can make these phrases cliche for the rule of thirds, they can certainly do it to dynamic symmetry.
The problem with these cliche phrases is that they become popular belief and make it hard for beginners to think for themselves. Just like the cliche phrase, "Even a broken clock is right twice a day." If we stop and think about it, this isn't true. What if the clock is digital and has no power? What if you live in Europe or are in the military where they use 24hrs instead of 12?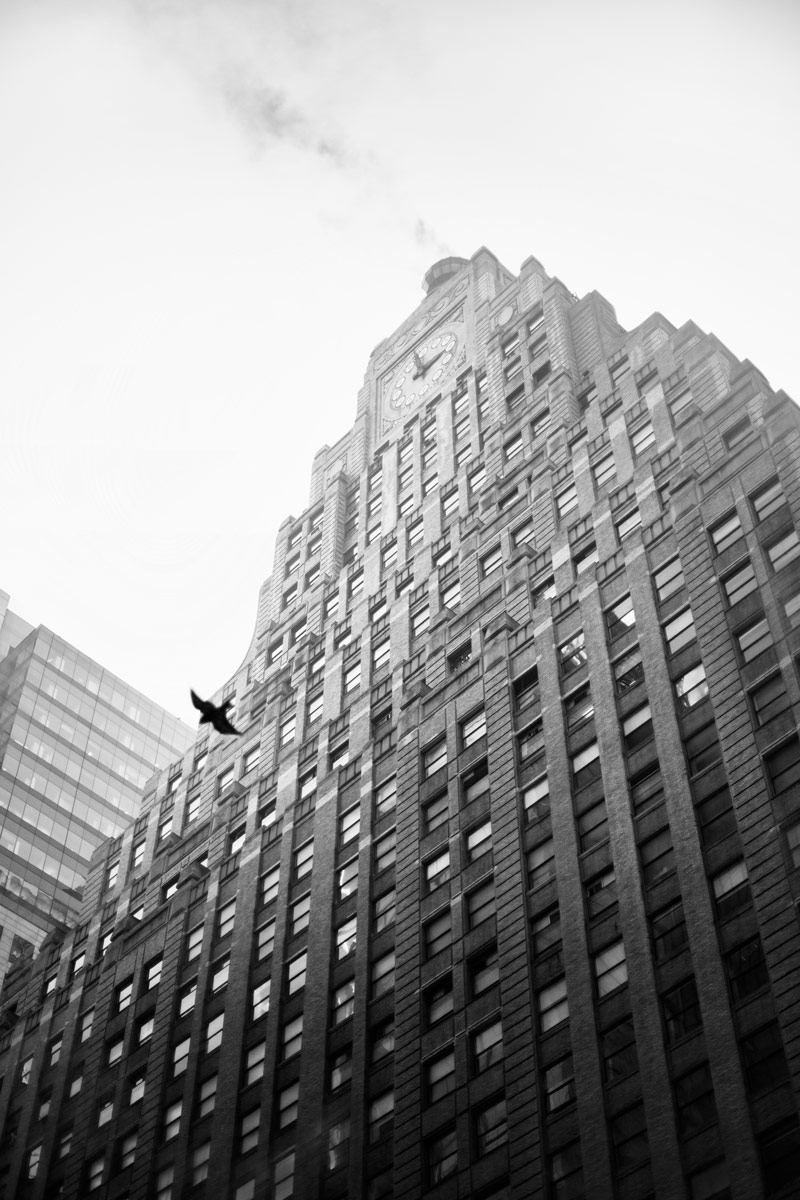 When we don't stop to think for ourselves, we are likely to follow the opinions and decisions of others rather than what can truly benefit us. Or in this case, benefit our art. Groups of people did the same thing in Jonestown, and we all know how that ended up.
When it comes to the skepticism circling dynamic symmetry, there seem to be four camps. The main one is Camp "Draw Enough Lines." Just like the first example, we can see in all of the screenshots below that they repeat the same phrase almost exactly! How can this be? We could say that they are mindless sheep regurgitating the same thing to sooth their ego, but that name-calling would only feed our own ego (see #590). One reason these phrases are repeated in almost the same exact way is that they find comfort and confirmation bias by agreeing with the group instead of going against it. It's also much easier to comment the same exact thing rather than think for themselves, let alone try the methods being taught. I have asked several skeptics if they've even tried dynamic symmetry or analyzed a master painting and they haven't…not one.
Read these comments, it's mind-blowing how different people can comment the same thing.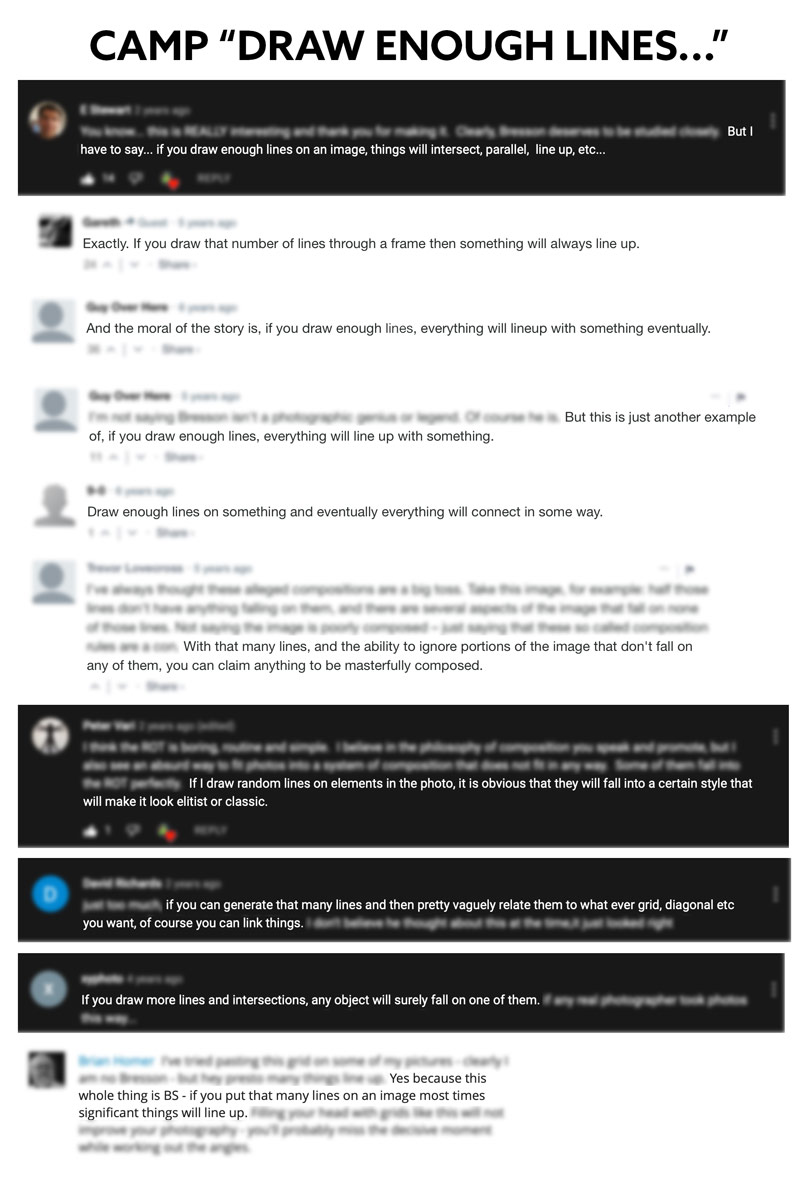 Then we have Camp "Random Lines" to throw shade on dynamic symmetry. But we can easily prove that none of these commenters have actually used dynamic symmetry.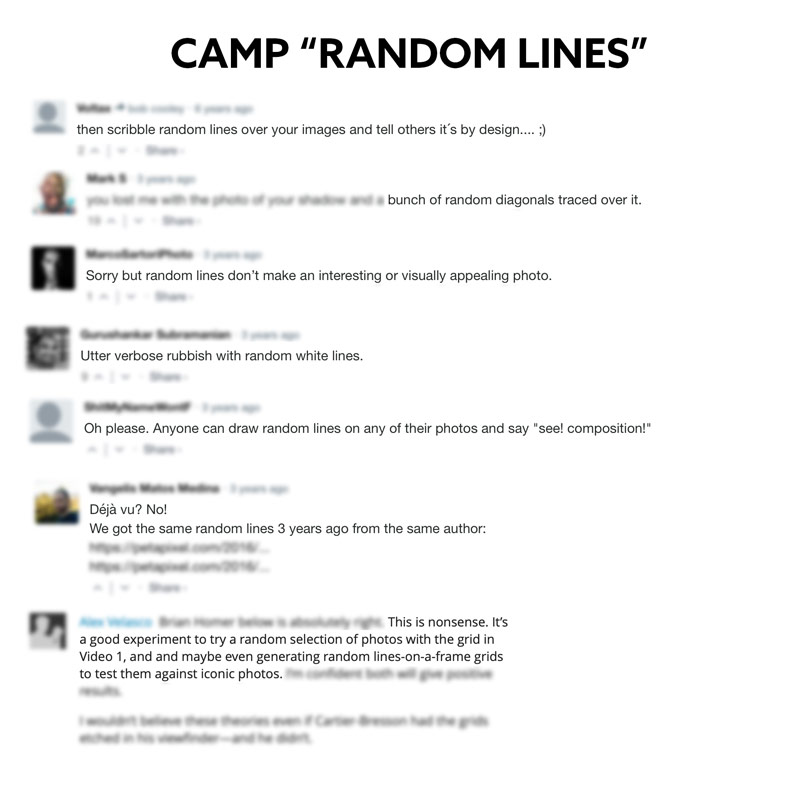 Anyone that knows the absolute basics of dynamic symmetry and how the armature is built will know that the lines aren't random. There's nothing random about the lines at all. It's actually quite specific as we can see in the 1.5 basic armature below.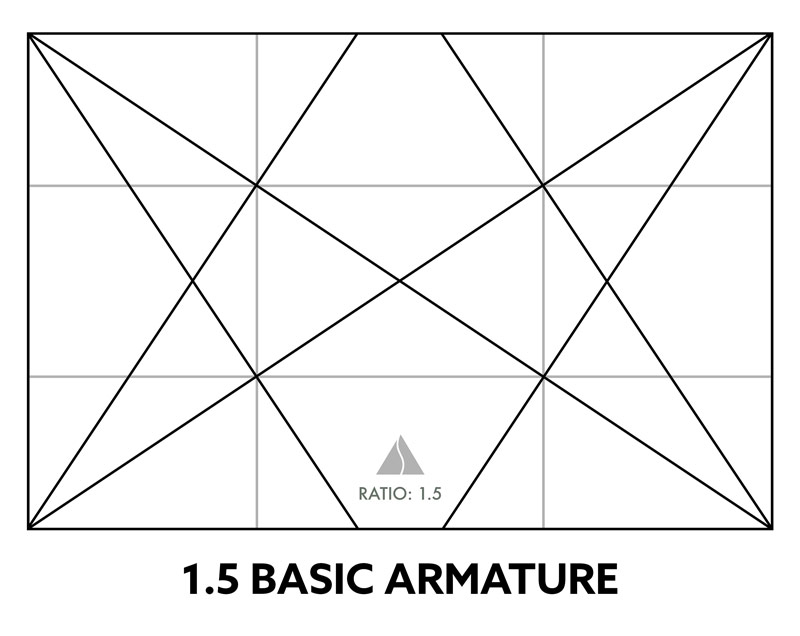 Next we have Camp "Lines are BS." This camp is full of people who see lines and cringe instantly. They seem to know that something is BS without even trying it. Again, there's safety in numbers, but it won't help their art.
Some of these comments are from about 6 years ago, which means they were introduced to a compositional tool so long ago that they could've mastered it by now. But where are they now? Has there photography or composition improved? Are they still a slave to the rule of thirds? Oh wait, doesn't the rule of thirds grid have lines too? How confused they must be!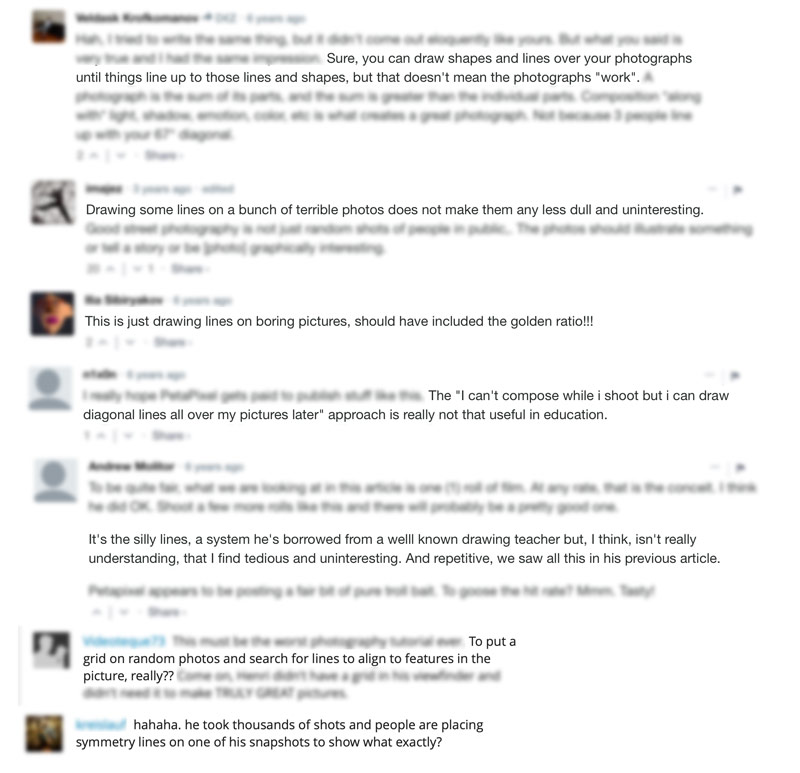 To answer a concern in one of the comments, we don't have to use all of the lines of the grid. Especially with street photography. Lock in or parallel one or two things to the grid; try that first. Henri Cartier-Bresson primarily used a dominant diagonal or its reciprocal, and we can see this in the images below.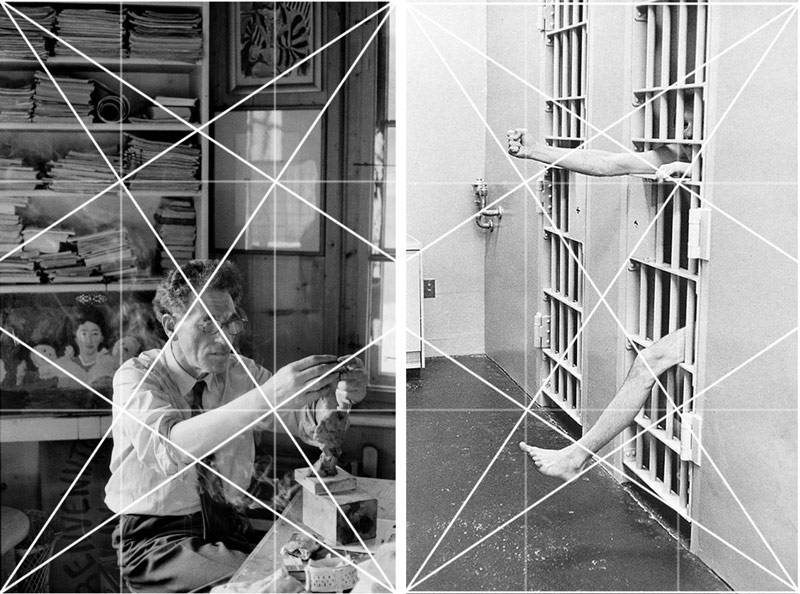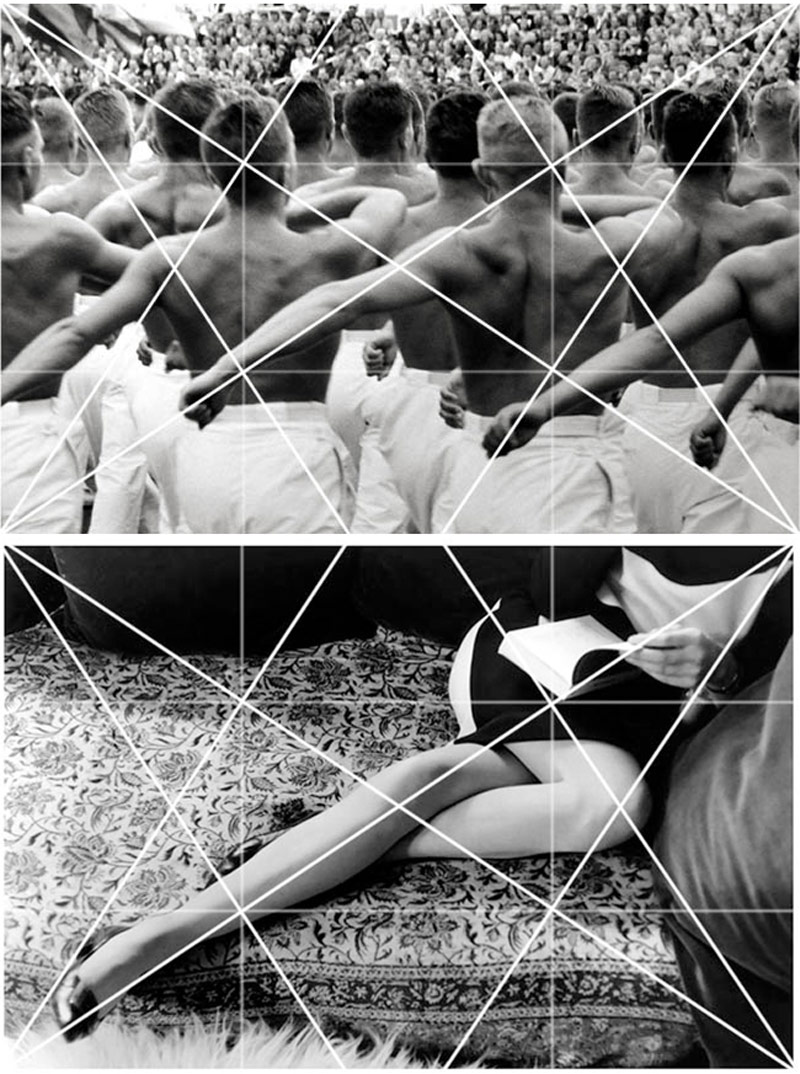 The last one is Camp "I'm scared of lines," with those individuals who relate the lines to magic voodoo, hocus-pocus-nonsense. Who knew dynamic symmetry could be so terrifying!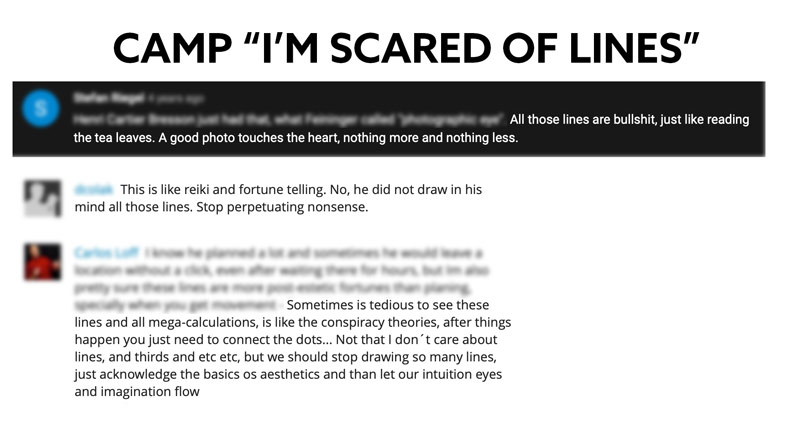 Some of them say that the grid is related to the devil and pentagram, or the illuminati. How much of a conspiracy theorist do they have to be to have this level of skepticism? It's no secret that all of these lines are simply geometry, or math visualized. That's it. Henri Cartier Bresson always claimed to be obsessed with geometry (see #472), does that make him a member of the Freemasonry? Not at all! Dynamic symmetry is geometry, which is why the lines are so specific. We don't have to know math to use dynamic symmetry, even though the grid can be turned into numbers. For instance, the phi rectangle below is actually represented by the phi ratio of 1.618. Nothing magic about this stuff!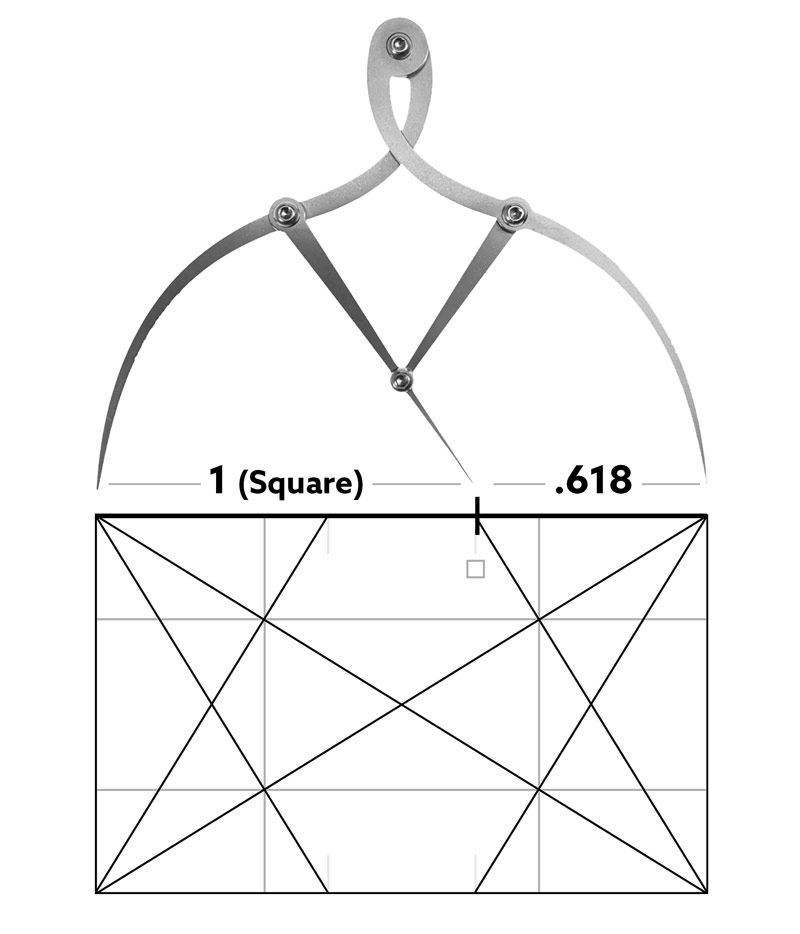 The pentagram is nothing more than a bunch of golden triangles arranged to create a star shape. In this diagram from the dynamic symmetry book, we can see that this same exact shape can be rearranged in all kinds of different ways. It's not satanic, it's geometry.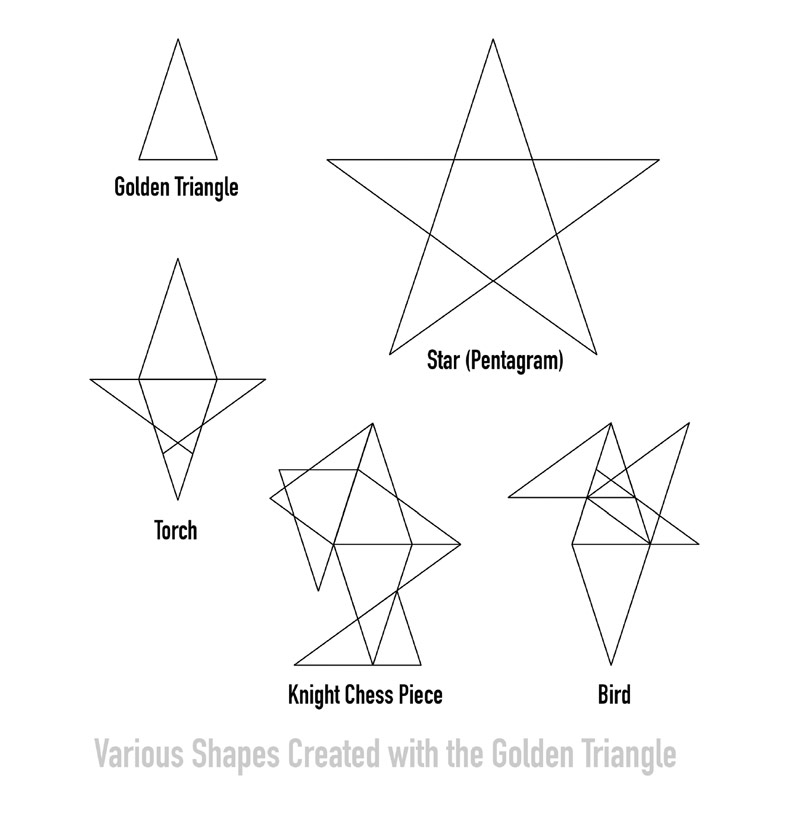 The point is, we need to be aware of certain cliche phrases and dig into them to see if they really benefit our art. It's easier for most of these people commenting to dismiss the concept rather than try dynamic symmetry for themselves.
Something I'm always repeating about dynamic symmetry is that it promotes unity, rhythm, movement and strength. This isn't a cliche, it's fact and proven within the site and tons of videos. We can see in the diagram below the four techniques promoted by the grid (see #692). If you're locking in or paralleling the grid you'll be promoting these techniques within your composition.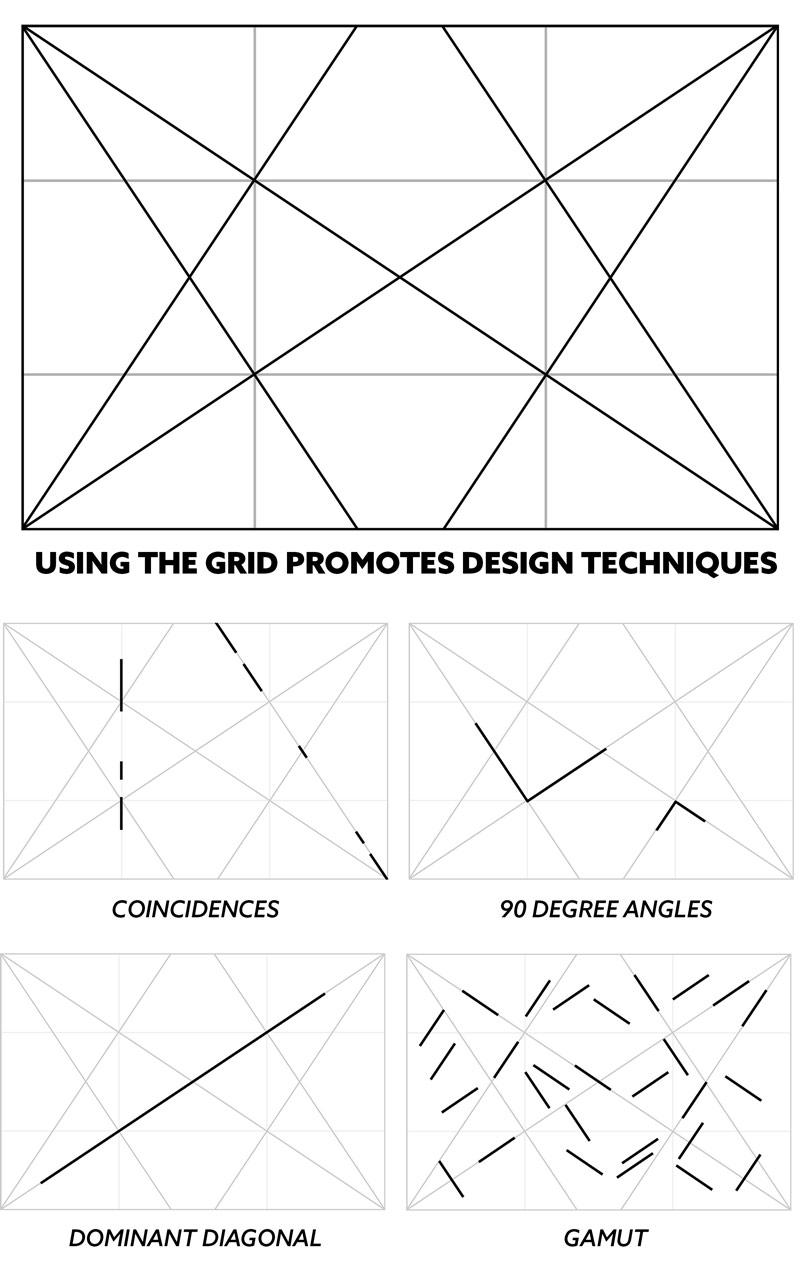 Now you know where this meme comes from!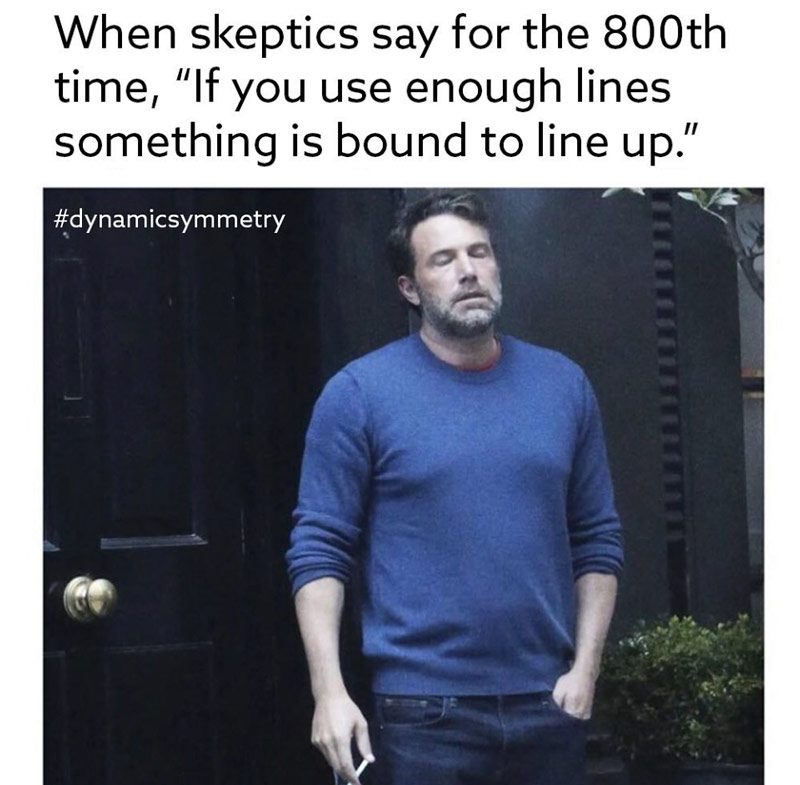 Dynamic symmetry is the solid foundation for masterful art, but a great composition doesn't stop there. You'll need to try and incorporate other design techniques if you truly want to master composition.
It's important that if you hear someone teaching dynamic symmetry and you pick up on any cliche phrases, be sure to ask them questions to understand more. You can comment below or message me if you have questions. I was skeptical of dynamic symmetry at first, but digging deeper is what produced all of the articles and videos for the serious artists out there. 
Thanks so much for joining in, see you next time!