How to Force Growth as an Artist (Fun Video)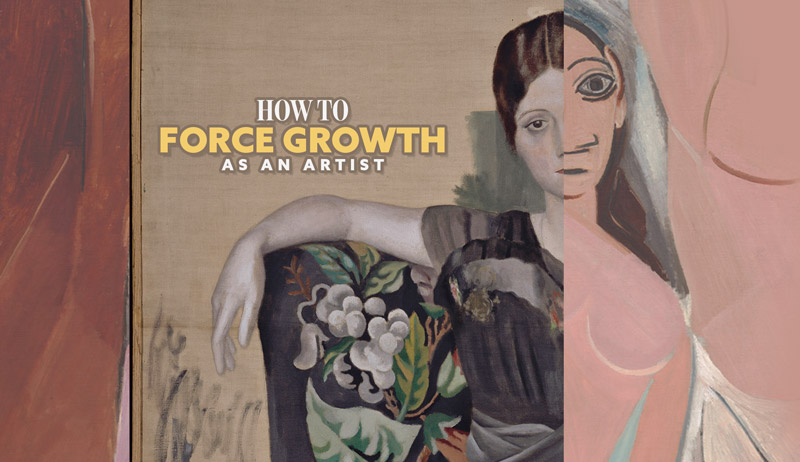 #611
Hey everyone, thanks for joining in today! As always, thanks for the amazing support, it's always appreciated!
Today we are going to learn some ways that you can grow as an artist. We're not talking about your height either! How can we approach this growth without changing our style completely? Let's find out now!
The thing that sparked interest in forcing growth as an artist was the reality show "Work of Art." You'll see Season Two, Episode One below. It seems to be more interested in sculptures or installments rather than paintings and photography, but there are some really creative transformations that are inspiring.
As they are all forced to compete against each other to impress the snobby judges, it provides some potential feedback that we can apply to our own growth. The overall message that I was able to filter out from all of the critiques was this:
Add a piece of your own life to the art. Stop trying to pander to the masses and create art that you think everyone wants. It only ends up flat and unoriginal. Create the art that you want!
The judges would always dock points if the artists were safe or stereotypical. They emphasize that it's important to keep it simple, but not come off as simple. Simple, yet deep.
That being said, if any artists are creating art to try and fit into a mold or an Instagram algorithm, they might only be hurting themselves. We'll learn how we can force growth in a healthy way, further below. Until then, enjoy the video and watch actively instead of passively to get more from it.
Force Growth
Some Tips to
Take Brooke Shaden and Miss Aniela, two fine art photographers I've been following since 2011. What if they did group photos? Have they shown growth over the years? Let's take a look!
In the examples below, you'll see some old and new photos of each photographer. Do you see any growth? Opinions may vary, but it seems that Miss Aniela is showing more growth over the years. They are both amazing photographers, but growth is important. Are they growing enough?
They both started as self-portrait photographers, but it seems that Miss Aniela keeps pushing herself while Brooke Shaden is more comfortable. Brooke seems more comfortable taking self-portraits and using the square format with textures and lots of Photoshop editing. Nothing wrong with that, and she's got a solid artistic style (see Day 122), but wouldn't it be cool to see what else she could do? Add her unique style to group photos or couples, or a different model. Maybe a longer format instead of the square? Maybe add animals?
Every artist has limitations, which is understandable; the more people in the shot, the more problems can occur. The main point is to get out of your comfort zone and keep pushing yourself. Keep making mistakes and feeling the frustrations of growth.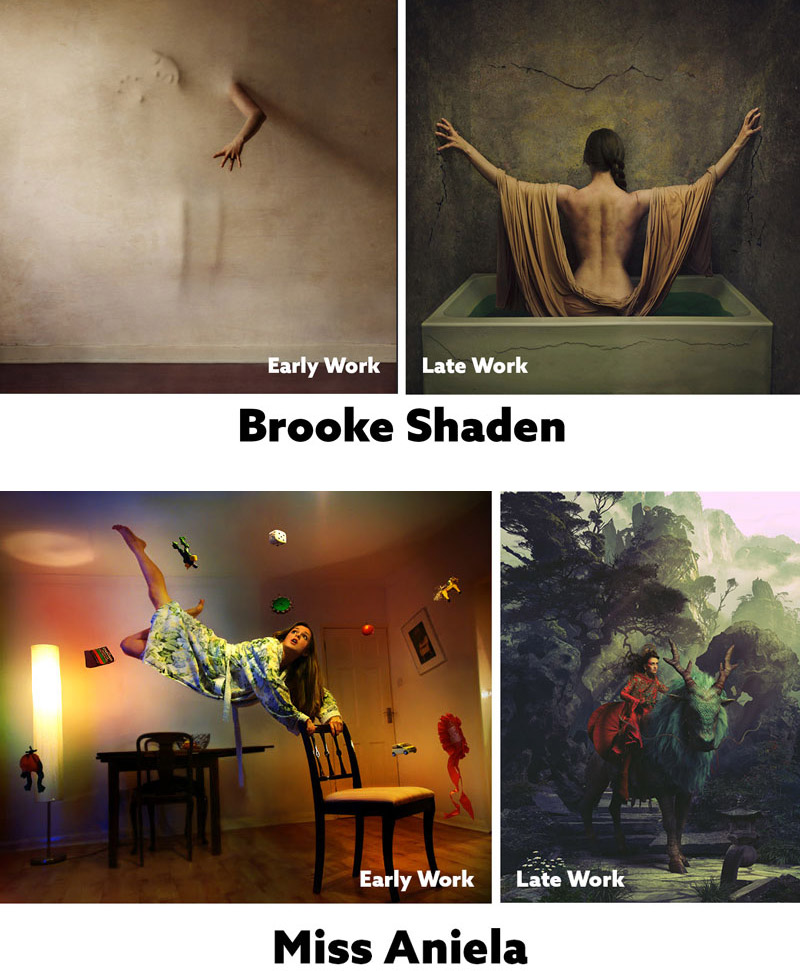 Annie Leibovitz use to do candid shots of rebellious rock stars, but she's grown tremendously throughout her career. What if she continued to do the same rock-and-roll shots. Look at the amazing body of work we would've missed out on! She still holds true to her style, yet she shows growth.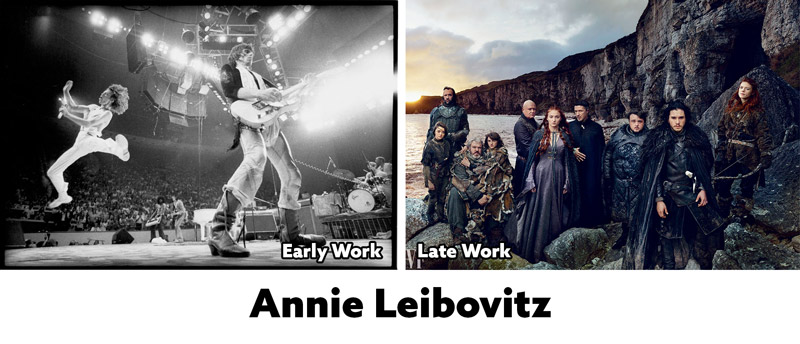 Let's take a look at Steven Spielberg movies that contrast each other, but still have his style of direction. We've all heard of "E.T.," and he's got similar movies like "The Goonies," "Jurassic Park," and "Indiana Jones." To contrast those and show a bit of growth, he's directed iconic horror flicks like "Jaws," and "Poltergeist." He's even directed dramatic war movies like "Schindler's List" and "Saving Private Ryan." All unique to his style of directing, but we can see how he's able to get out of his comfort zone. If he didn't do that, we'd probably have some great Indiana-Jones-style movies, but we'd be missing some tremendously excellent ones.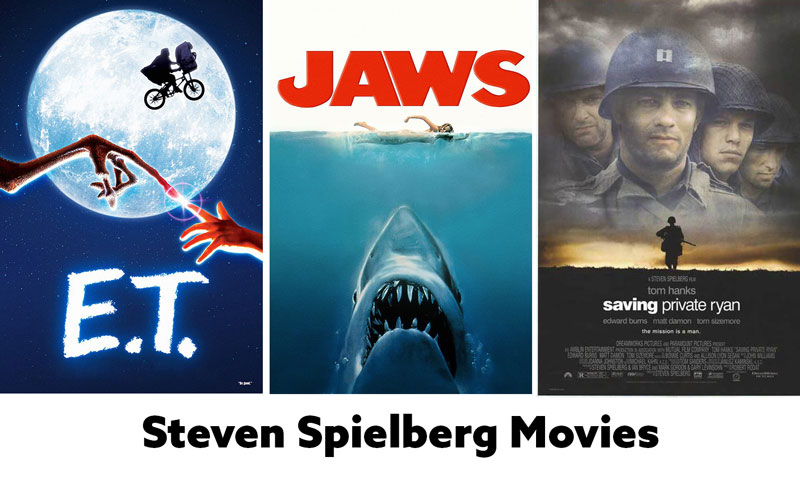 Pablo Picasso is well-known for his feverish growth as an artist (see #607). He had to remain fresh if he wanted to dethrone Matisse back in those days, but we can still see his artistic style shining through in both examples below.
The key to force growth is to get out of your comfort zone and try different mediums. Keep pushing yourself. If you're a painter, try sculpting, if you're a photographer try painting. If you're a photographer that shoots mostly natural lighting, try using a soft box. If you're a painter that always paints one figure, try a group of figures. If you're a street photographer that usually captures a lot of the environment, try getting closer for some more intimate portraits. Keep the core of your style the same, while expanding into complexity. Keep it simple, yet deep.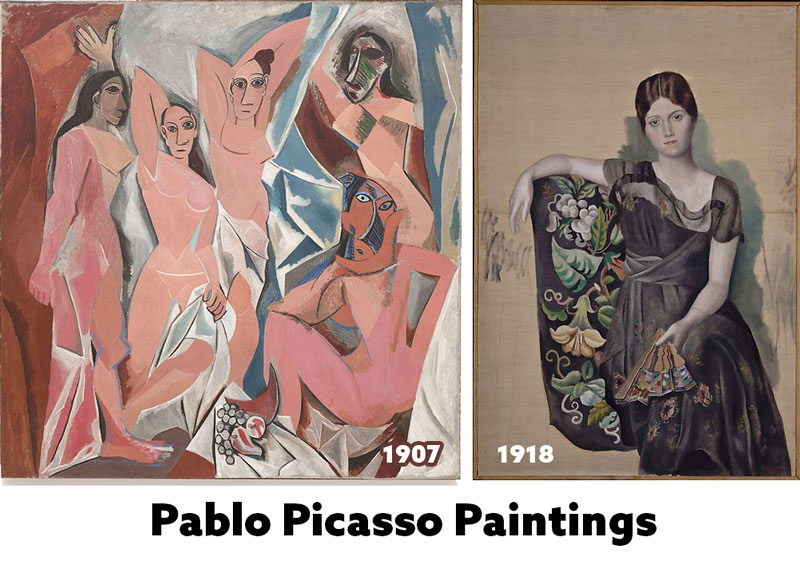 So, how can we tell if we are growing? How can we force ourselves to grow more? Ask yourself, "Do I feel comfortable when I create my art?" If the answer is yes, you're not growing. Usually with learning something new, you'll feel a bit of frustration; you'll make more mistakes. These are uncomfortable, but they are the perfect indicator that growth is happening. Identify your comfort zone and distance yourself from it just a bit.
Thanks for joining in today, I can't say that enough! See you next time!