Book, Video, and Membership Giveaway by Canon of Design – **ENDED**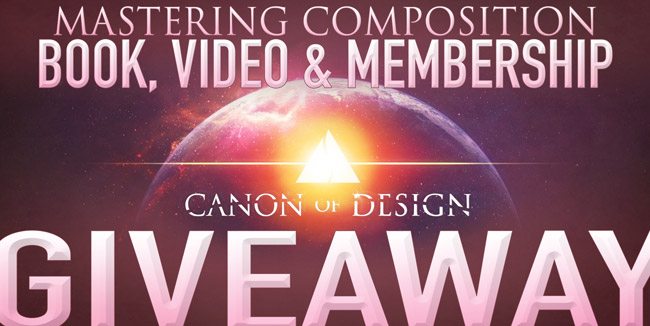 Hey everyone, I'm excited to announce a huge giveaway! This is my way of saying thank you for all of the continued support. I couldn't be doing this without you! Check out the details below and be sure to enter to win. Share this with your artistic friends, there's plenty of freebies to go around!
Video for Giveaway
Here's a quick video I made in Moby (the mobile studio) to announce the giveaway and describe all of the awesome prizes!
Check Out the Giveaway Winners
Fast forward in time and check out the giveaway winners in this video with new Mavic Pro Drone test shots.
How to Enter
To enter in the contest it's very simple. Just comment below and let me know which prize you'd like to win first, second, and third. If I pick your name first, then you get what you want. I will prioritize what I give you according to what you have listed.
This contest is also running on my YouTube channel (here), so comment on that too, and you'll be entered into the contest TWICE. Cool, right!?
What to Win
I've got a bunch of great things to giveaway, and they are listed below.
1. The Ultimate Package – includes one year membership, 7 videos, and one Canon of Design PDF book (more info)
2. Gestalt Psychology Video Collection – includes 7 videos based on powerful design techniques. (more info)
3. Year membership to Canon of Design blog – over 440 articles (more info)
4. Photography Composition & Design Hardcover Book – Signed (more info)
5. Photography Composition & Design Book PDF (more info)
6. Canon of Design Hardcover Book – Signed (more info)
7. Canon of Design Book PDF (more info)
8. Dynamic Symmetry Grids – all 70 of them for photography and composition (more info)
More Details
Here's some of the fine detail type of stuff that you might be curious about.
1. One prize per person.
2. International giveaway- anyone can enter.
3. YouTube Subscribe is nice, but optional.
4. YouTube Like is much appreciated, but optional.
5. The giveaway will end in two weeks from this post date.
6. Once the names are drawn, I will announce them and contact you for your mailing address (physical, or email depending on prize).
7. You have 72 hours to claim your prize once the winners are announced, otherwise it will void.
8. All entrants must be 18 years of age (or older) to participate, or have a parent enter for you, and we will be verifying this.
9. The contest ends on Monday night, May 22nd at 11:59pm EST (2017), and the winner will be announced a week after the contest ends (May 29th, 2017), via YouTube and Facebook.
9. FTC Disclaimer: This is not a sponsored video, and neither YouTube or anyone else are sponsors nor party to the giveaway on the website. All giveaway items were created by Tavis Leaf Glover personally.
10. This giveaway is ran in accordance to the YouTube Community Guidelines and YouTube Terms of Service. Any entries not following the YouTube Community Guidelines will be disqualified. Personal data from the giveaway will NOT be used or shared in any way, shape or form.