"Moby" the Mobile Studio: for Painting and Photography

#429
Hey everyone, welcome back! Thanks for all of the continued support…I really appreciate all of the emails, comments, and messages.
Today I'm going to let you in on a huge project I've been working on. I built a mobile studio! My girlfriend and I have a tiny apartment in Hawaii, so there's not much room to spread out and paint, draw, and setup an office of any kind. Not to mention her little parrots wouldn't do so well with the paint fumes. Yes, I plan on painting with oils very soon! Anyway, I've got some before and after pictures below, as well as a 10 part video series on the build!

While building "Moby", I envisioned opening up the back doors to a beautiful ocean scene. It's so amazing to see it become a reality! I can even do a photoshoot on location, then hop into the van, sit at my desk and start editing.
I guess you could call it a mobile "Man Cave" as well…depends on how you look at it. I've been working in it a ton already (see #427), and have figured out a way to blog with my phone and laptop without WIFI or mobile hotspot.
Before and After Pictures
This is me after I bought Moby the mobile studio. Before the conversion it was just a regular ol' Chevy Express 3500 extended van with ugly seats and nothing else. Why did I call it Moby? Well, it's big and blue like a whale, plus we live in Hawaii…why not?!
Can you see my shear excitement in the photo below? We celebrated by eating some gourmet cupcakes and ice cream.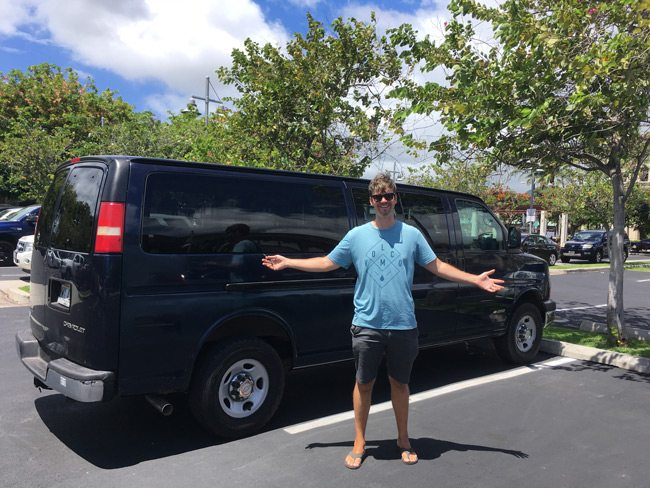 So, this is what I was dealing with; a 15 passenger van with lots of seats and windows. To get the ball rolling I had to gut it…rip everything out…everything.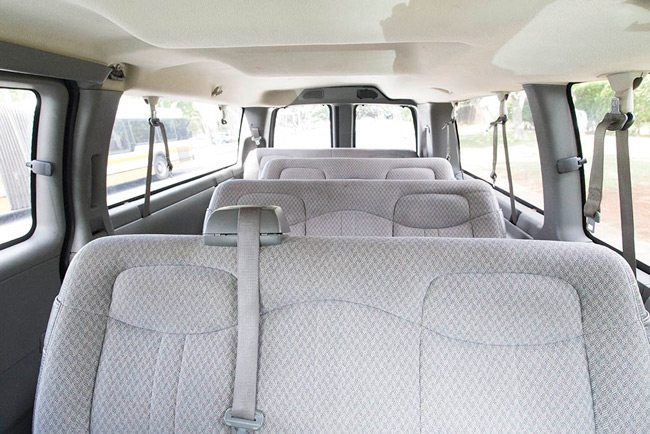 This didn't take long…here you can see the after photo with everything gone…seats, head liner, seat belts, insulation, melted chewing gum…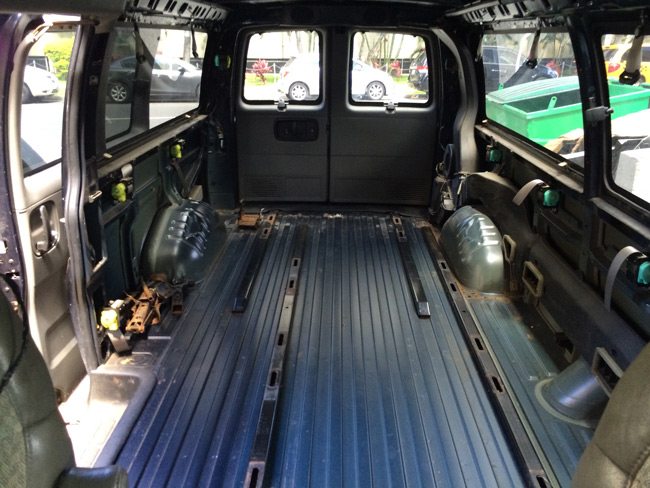 To the left of the van is everything I pulled from the inside…the guts. My back was sore for a couple of days after this.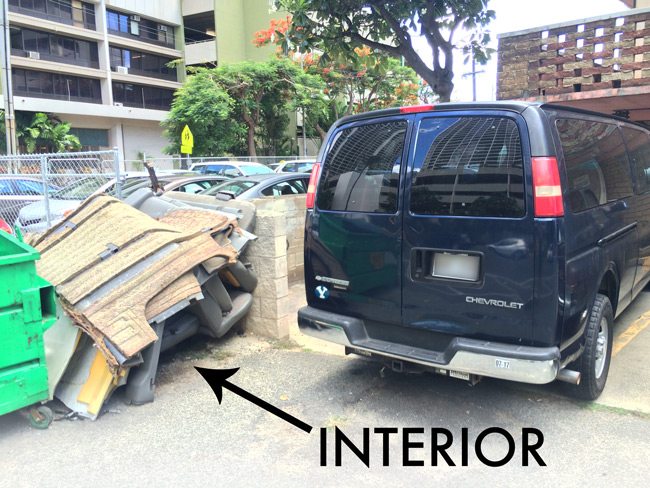 In the photo below you can see what it looks like now. Aside from the easel/bed on the left, and the folding desk/bunk bed on the right, I created fold up shutters that can help block the sun, or be opened during sunset. Today, I installed a ceiling with the same flesh toned wood. It should cut down the heat up to 20 degrees, so I'm excited.
I'm planning to install a solar system when I have enough money saved, so if you have any pointers on the subject, please let me know.
After photo…lots of sweat went into this workable mobile studio!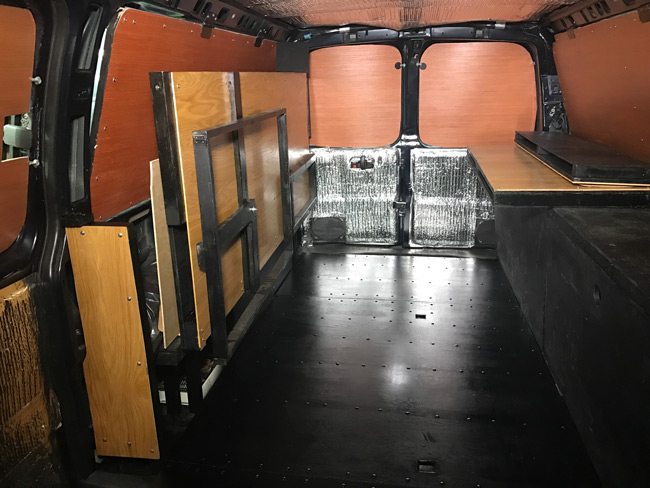 Yes, this is a camper van as well. I made sure there was a bed and little bunk bed to easily sleep my girlfriend and I. We plan to drive to Kaena Point one evening with her two parrots (Daisy and Molly), watch sunset, then wake up to the sunrise and check out the huge Albatros birds flying in that area. She is really into birds!
This is a shot of Manana Island (aka "Rabbit Island") I took while doing the video intro for the van build series.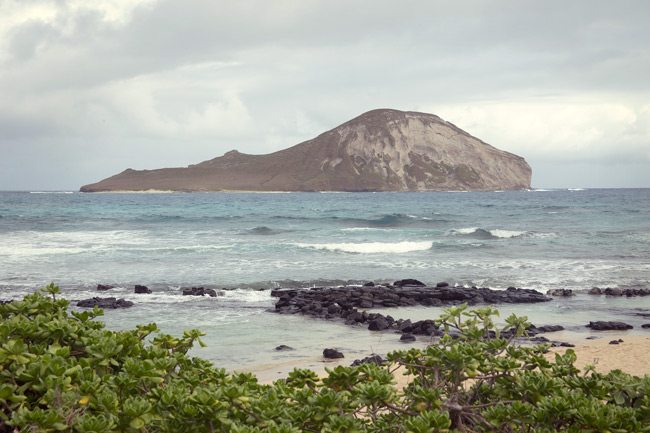 Video Intro
Check out the video intro and you can see how the desk fits in three different locations, how the bed works with the bunk bed, and how the easel spins for a 24×36 canvas.
What do you think of the mobile studio idea? Ever done something like this yourself? Let me know in the comments below, or message me. I've never done anything like this before and the last time I worked with wood was in 10th grade shop class. It's amazing what can be accomplished with some planning, tools, sweat, and basic safety precautions.
Thanks for joining in today! Please Subscribe on YouTube…I'm planning on doing a lot more videos for composition and design. See you next time!