My $200 Pencil Sharpener for Drawing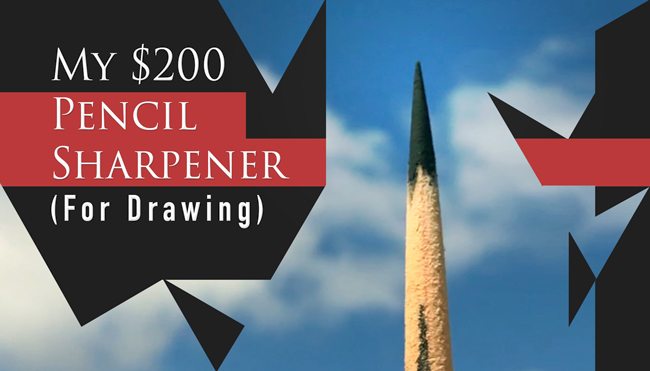 #433
Huge thanks to everyone for all of the continued support, much love!!
Here's a fun video showing how to sharpen pencils for drawing. I always thought shaving it down with a razor and sandpaper was a pain in the butt, so I decided to try it another way. I'll show you the traditional way, and also a new approach that will get the job done quicker and more efficient.

Here's a couple of Amazon affiliate links if you'd like to further help support this site, and find yourself an awesome pencil sharpener 🙂
Oscillating Multi-Tool: http://amzn.to/2lbaagg
Oscillating Multi-Tool KIT (the one I bought): http://amzn.to/2jOuE23
My $200 Pencil Sharpener for Drawing Video
The video was pretty fun to make! I had to special order the Conte HB 1710 from Ebay. I wanted to get the same exact kind that I used in Myron Barnstone's drawing class.
Using the oscillating multi-tool is so much easier. That thing can cut wood as well. Such a handy tool…I used it towards the end of my "Moby" build (see #429).