Description
Mastering composition in the visual arts is complex, but mostly because the design techniques used by master painters have been kept secret from all of us. They won't teach you these powerful techniques in expensive art schools. Most of them don't know them, and if they do, they are kept hush-hush to benefit their own art.
The cookie cutter techniques they are teaching in schools, like the rule of thirds and leading lines, will not allow artists to reach their true potential. They will lead them down a dark road of creating mediocre art. If you want to be an elite artist like Da Vinci, Van Gogh, or Bouguereau, you have to dig deeper for quality knowledge.
Being on this page…at this moment…is a step in the right direction.
You see, if you never found this page, then you might've gone ten more years trying to figure out why your art doesn't have the "spark" of the masters. I'm not referring to master painters alone…there are master photographers that have used these techniques too, like Annie Leibovitz and Henri Cartier-Bresson.
Who Can Use These Techniques?
These techniques for mastering composition don't just apply to photography or painting…they apply to all visual arts. They are tools of elite artists, and serious artists must know them if they're wanting to take their art to the master level.
The artistic journey doesn't have to be a complete struggle with quality knowledge at your fingertips. Don't you want your art to have the spark of the masters? Invest in your art for yourself, and for the people who will enjoy your art centuries from now. It's never too late!
More Details
Ignite your creativity with the must-have book for artists wanting to master composition…visual communication…design…all visual arts. This pocket-sized book is printed beautifully and you won't find another one like it anywhere on the internet.
It's 88 pages, jam-packed with enough secret design knowledge to get your mind salivating for your next creation. It offers guidance, plenty of examples, inspiration, and proof that the masters knew exactly what they were doing when they created a masterpiece. Fit it in your back pocket, your camera bag, or with your paints and brushes. Of all the books on mastering composition, this will not only bring your art to the next level, it will bring it to the master level! Stand with Da Vinci, Van Gogh, Degas, Bouguereau, Picasso and the others!
LEARN TO MASTER ARTISTIC COMPOSITION There's nothing more important to the future of your artwork than to educate and nurture the unique talent you were born to share with the world. The Canon of Design represents artistic integrity and enables you to leave your mark on this earth as one of the most talented visual communicators ever known. Learn the language of design to stand with the great masters and reflect the beauty prominently found in nature. This field manual is written to you, for you, and will help shorten your journey to achieving artistic excellence!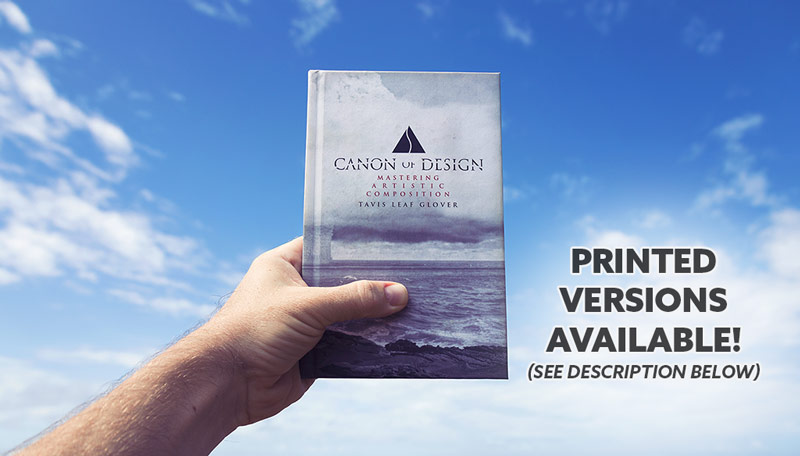 Printed Versions
The printed version is a beautiful addition to any artists bookshelf. Proudly place it next to the others and read it often. Flip through the crisp pages, and carry it everywhere! The printed book also makes a great birthday or Christmas gift. Check out the links below to order now!
Click HERE to Buy the Hardcover on AMAZON $31.00
Click HERE to Buy the Paperback on AMAZON $19.95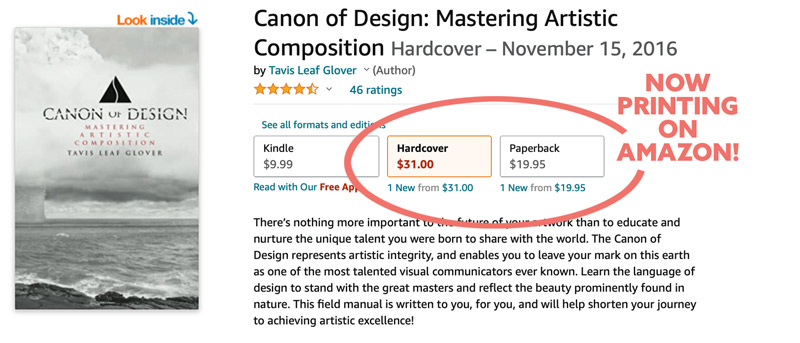 All Digital Formats Available
Enjoy reading the PDF, eBook, or Kindle anywhere you like! Yes, you get all three formats to read however works best for you, now, and in the future. The digital books are designed and styled beautifully, and the PDF is exactly like the printed version.
With the eBook versions, you can bookmark the techniques you want to work on further, and highlight your favorite quotes to always remember when it matters most. The eBook for mastering composition was designed specifically for the iPad. You can see how beautiful it looks further below and the amazing options that are now available.
Instant Download Includes:
1 – Canon of Design Mastering Artistic Composition PDF(High Res)
1 – Canon of Design Mastering Artistic Composition Kindle eBook
1 – Canon of Design Mastering Artistic Composition iPhone/iPad eBook
1 – Canon of Design Mastering Artistic Composition Mobile PDF

Download Size: 58.7 MB zipped
After purchasing the digital books, you will be able to download them instantly. You'll also receive an email that will include the downloads as well. On a MOBILE DEVICE? No worries! With the link in the email, you can view the mobile PDF version of the book until you get back at your main computer.
Attention: To open the zipped files on a phone or tablet you will need an app like "iZip" or another unarchiver app. Attempting to download a zipped file without an unarchiving app can fill up your storage and be difficult to find/delete off of your device.