Famous Artist Birthdays and Inspiration

#422
Hey everyone welcome back to another fun article. Thanks so much for all of the continued support, I truly am appreciative of everything!
I've made a fully stocked birthday list of every famous artist that has inspired me along the way. Lots of samples to introduce you to their art and possibly inspire your own. Name links lead to a google search with more of their images, and I also include links to previous articles. Everyone from photographers, film makers, painters, printmakers, sculptors, and illustrators…almost like an artist glossary. Get inspired and see if your birthday lands on theirs!
I've always found it interesting to see when famous artists are born, and how long they lived. Most of them lived a very long life. I was born September 28th, 1977, so I feel that much closer to the artists that lived in the 1900's. I kind of wish I lived in the 1800's with many of the great artists listed below…for the art, not the war, poverty, and lack of technology.
It's crazy to see how traditional composition and design seems to have withered away almost completely in the last 50 years or so. If you look at the dates, it seems to fade out around the 70's when Picasso died. There are only a handful of famous artists to make it further and carry the torch of traditional composition like Dali, Nerdrum, Leibovitz, and a few others. Craziness!
Not to say that nice art isn't being made by other famous artists, but the powerful composition techniques are minimal. Composition is not being taught in many schools much past…you know what. But, enough of me rambling on about these awesome artists. Check them out for yourselves and be inspired. Try to copy a master and emulate them in your work…it's one of the best ways to learn.
Downloads for Members
To all of The Master Pass members, I have made available all of the uncropped images (800px wide) for you to download on the resources page HERE if you wish. Add these to your inspiration folder, or create a new one!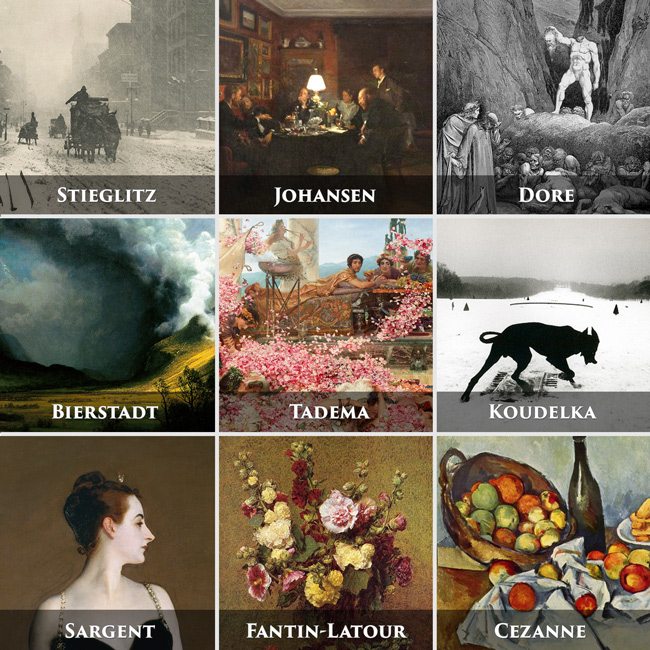 January
1st – Alfred Stiegletz 1864-1946 (photographer) (see Day 139)
3rd– Viggo Johansen 1851-1935 (painter) (see Day 89 & 121)
6th– Gustave Dore 1832-1883 (printmaker) (see #386)
7th– Albert Bierstadt 1830-1902 (painter)
8th– Sir Lawrence Alma Tadema 1836-1912 (painter) (see Day 163 & 233)
10th– Joseph Koudelka 1938-present (photographer) (see #395)
12th– John Singer Sargent 1856-1925 (painter) (see Day 40)
14th– Henri Fantin-Latour 1836-1904 (painter) (see Day 128)
19th– Paul Cezanne 1839-1906 (painter) (see Day 182 & 346)
20th– David Lynch 1946-present (film director)
23rd– Edouard Manet 1832-1883 (painter)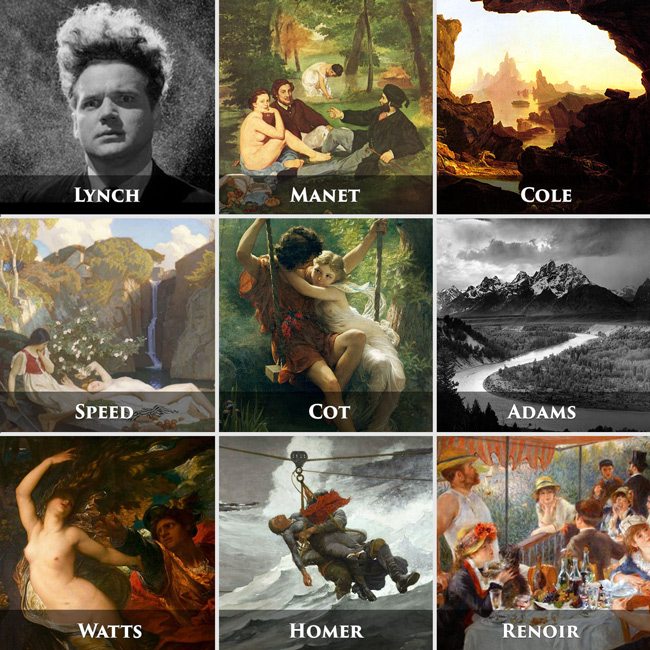 February
1st– Thomas Cole 1801-1848 (painter)
11th– Harold Speed 1872-1957 (painter/author) (see Day 311, 351 & #387)
17th– Pierre Auguste Cot 1837-1883 (painter) (see Day 240)
20th– Ansel Adams 1902-1984 (photographer) (see Day 293)
23rd– George Frederic Watts 1817-1904 (painter) (see Day 327)
24th– Winslow Homer 1836-1910 (painter)
25th– Pierre-Auguste Renoir 1841-1919 (painter) (see Day 261)
28th– Frank Gehry 1929-present (architect)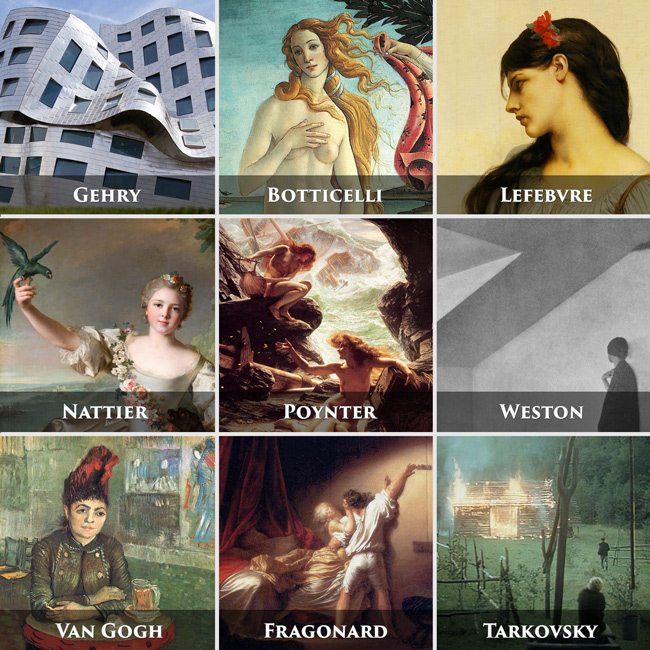 March
1st– Sandro Botticelli 1445-1510 (painter)
14th– Jules Joseph Lefebvre 1836-1911 (painter)
17th– Jean-Marc Nattier 1685-1766 (painter)
20th– Edward Poynter 1836-1919 (painter) (see Day 110)
24th– Edward Weston 1886-1958 (photographer) (see Day 106)
30th– Vincent van Gogh 1853-1890 (painter) (see Day 54, 219, 220, 221, 237, 250, 289, & 339)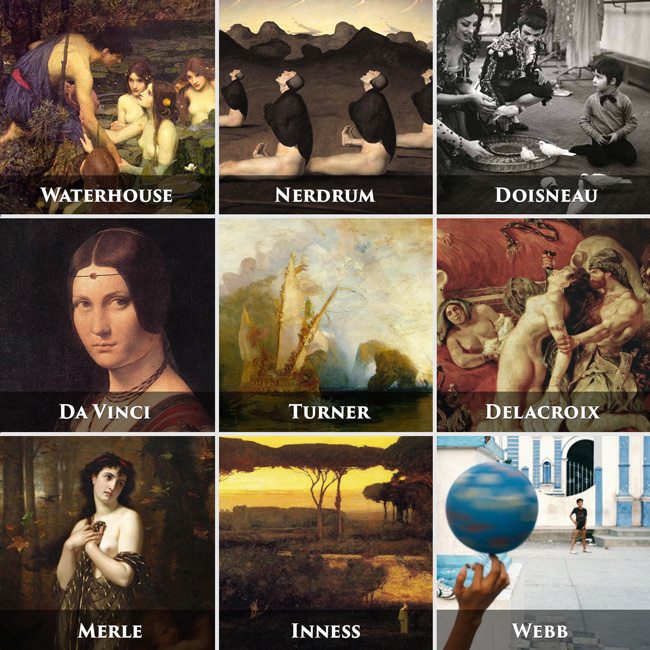 April
4th– Honoré  Fragonard 1732-1806 (painter)
4th– Andrei Tarkovsky 1932-1986 (film director)
6th– John William Waterhouse 1849-1917 (painter) (see Day 320)
8th– Odd Nerdrum 1944-present (painter) (see Day 357 & #408)
14th– Robert Doisneau 1912-1944 (photographer)
15th– Leonardo da Vinci 1452-1519 (painter/sculptor/architect) (see Day 33, 162, 171, 173, 247, 303, & #382)
23rd– J.M.W. Turner 1775-1851 (painter)
26th– Eugene Delacroix 1798-1836 (painter) (see Day 310)
28th– Hugeus Merle 1822-1881 (painter) (see Day 82)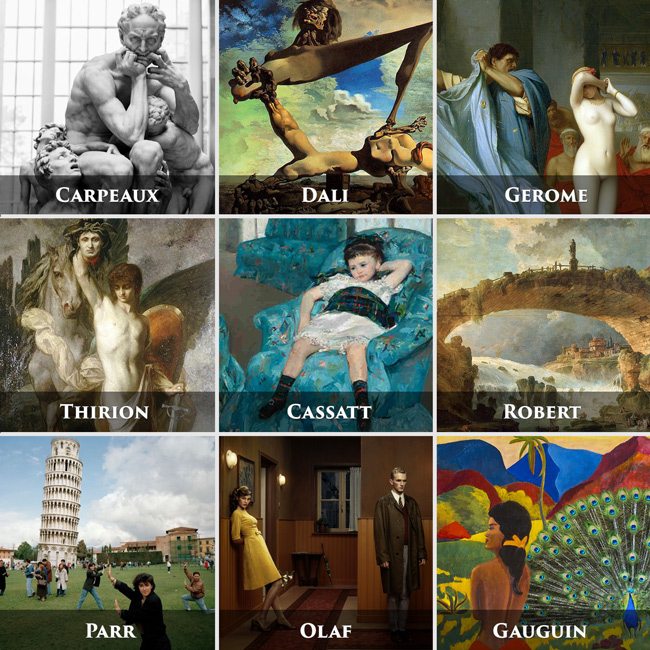 May
1st– George Inness 1825-1894 (painter)
5th– Alex Webb 1952-present (photographer) (see Day 276)
11th– Jean-Baptiste Carpeaux 1827-1875 (sculptor) (see Day 229)
11th– Salvador Dali 1904-1989 (painter) (see Day 259 & 268)
11th– Jean-Leon Gerome 1824-1904 (painter) (see Day 324)
19th– Eugene Romain Thirion 1839-1910 (painter) (see Day 362)
22nd– Mary Cassatt 1844-1926 (painter)
22nd– Hubert Robert 1733-1808 (painter) (see Day 135)
23rd– Martin Parr 1952-present (photographer) (see Day 295)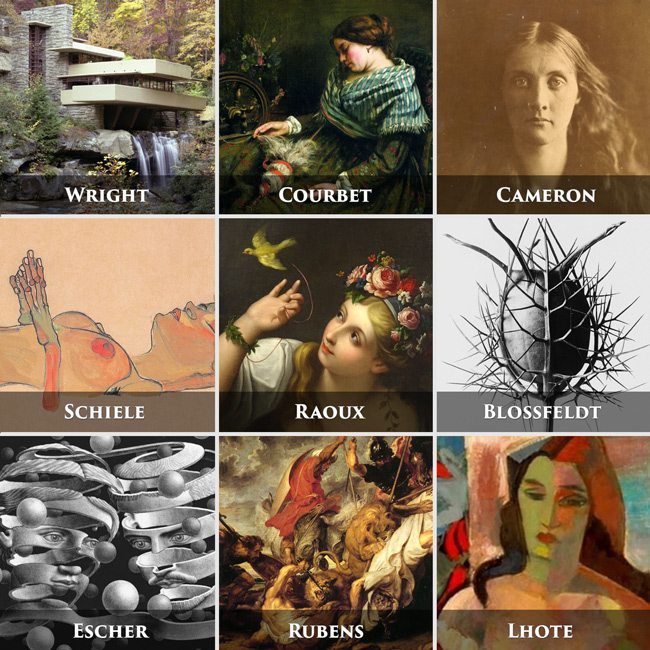 June
2nd– Erwin Olaf 1959-present (photographer) (see Day 201)
7th– Paul Gauguin 1848-1903 (painter)
8th– Frank Lloyd Wright 1867-1959 (architect)
10th– Gustave Courbet 1819-1877 (painter)
11th– Julia Margaret Cameron 1815-1879 (photographer)
12th– Egon Schiele 1890-1918 (painter) (see #391)
12th– Jean Raoux 1677-1734 (painter)
13th– Karl Blossfeldt 1865-1932 (photographer) (see Day 350)
17th– M.C. Escher 1898-1972 (graphic artist) (see Day 316)
28th– Peter Paul Rubens 1577-1640 (painter) (see Day 124, 145, 180, 212, 243, 254, 255, 256, 296, & 331)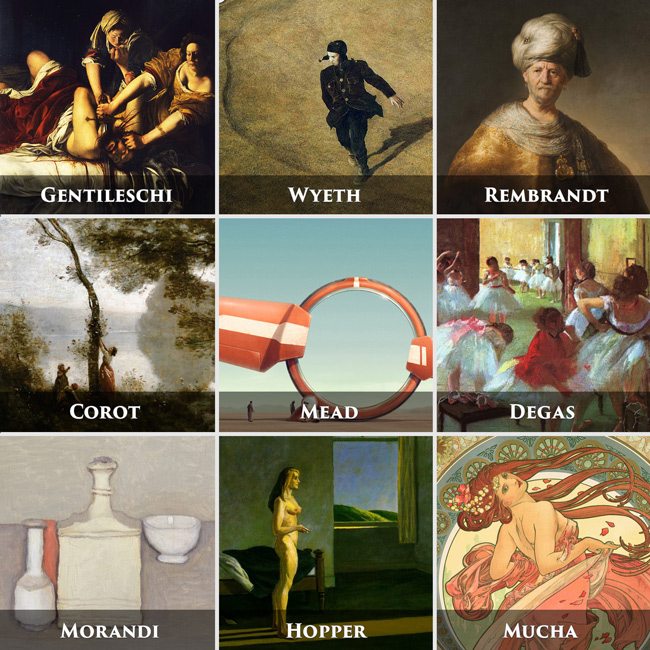 July
5th– Andre Lhote 1885-1962 (painter/author) (see Day 232)
8th– Artemisia Gentileschi 1593-1653 (painter) (see Day 205)
12th– Andrew Wyeth 1917-2009 (painter) (see Day 246, 349, & 356)
15th– Rembrandt 1606-1669 (painter) (see Day 334)
17th– Jean-Baptiste-Camille Corot 1796-1875 (painter) (see 1.4.13 post)
18th– Syd Mead 1933-present (illustrator)
19th– Edgar Degas 1834-1917 (painter) (see Day 114, 194, 208, 235, 290, 347, #406,
20th– Giorgio Morandi 1890-1964 (painter) (see Day 149)
22nd– Edward Hopper 1882-1967 (painter)
24th– Alphonse Mucha 1860-1939 (painter)
25th– Thomas Eakins 1844-1916 (painter) (see Day 348)
26th– Stanley Kubrick 1928-1999 (photographer/film director) (see Day 260)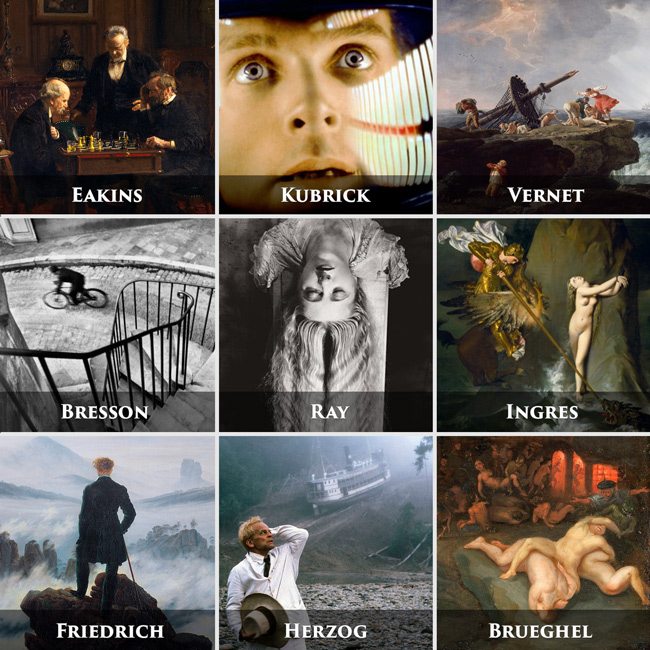 August
14th– Claude Joseph Vernet 1714-1789 (painter) (see Day 75)
22nd– Henri Cartier-Bresson 1908-2004 (photographer) (see Day 41, 45, 116, 226, 232, 252, 286, 314, #366, #368, #374, #381, #410, & #414)
27th– Man Ray 1890-1976 (photographer)
29th– Jean-Auguste-Dominique Ingres 1780-1867 (painter)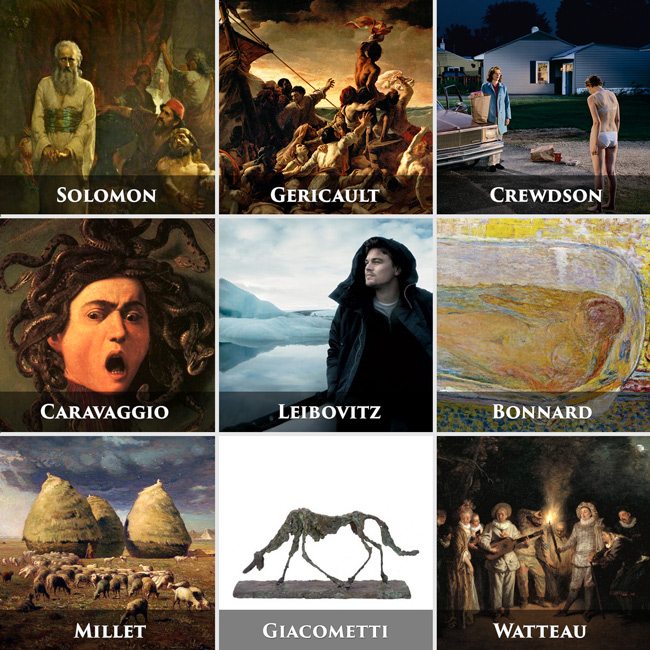 September
5th– Caspar David Friedrich 1774-1840 (painter) (see Day 97)
5th– Werner Herzog 1942-present (film director) (see #401)
13th– Jan Brueghel the younger 1601-1678 (painter)
16th– Solomon Joseph Solomon 1860-1927 (painter) (see Day 345)
26th– Theodore Gericault 1791-1824 (painter)
26th– Gregory Crewdson 1926-present (photographer) (see Day 30, 77, 117, 166, & 215
29th– Caravaggio 1571-1610 (painter) (see Day 100, & 313)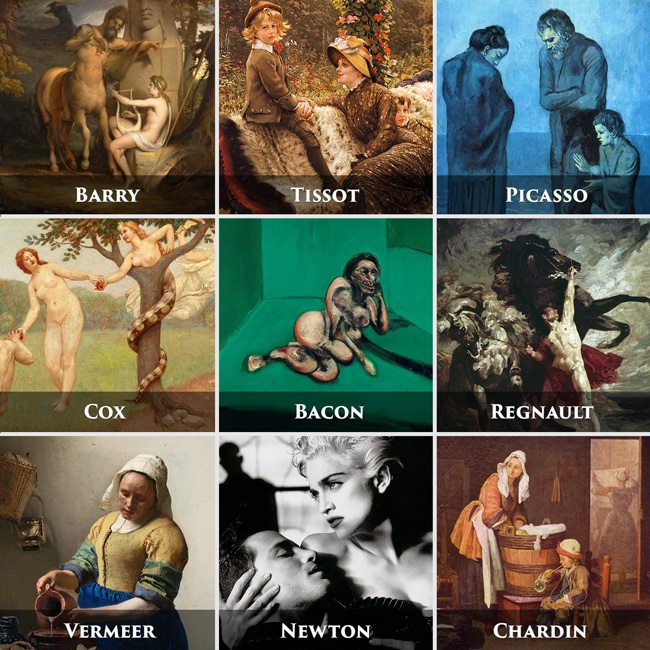 October
2nd– Annie Leibovitz 1949-present (photographer) (see Day 2, 47, 61, 86, 159, 187, 222, 264, 280, & #385)
3rd– Pierre Bonnard 1867-1947 (painter) (see Day 45 & 129)
4th– Jean Francois Millet 1814-1875 (painter)
10th– Alberto Giacometti 1901-1966 (sculptor, painter)
10th– Antoine Watteau 1684-1721 (painter)
11th– James Barry 1795-1865 (painter)
15th– James Tissot 1836-1902 (painter)
25th– Pablo Picasso 1881-1973 (painter/sculptor) (see Day 103, 138, 251, 274, 304, #377, #382, & #413)
27th– Kenyon Cox 1856-1919 (painter/author) (see Day 150)
28th– Francis Bacon 1909-1992 (painter)
30th– Henri Regnault 1843-1871 (painter)
31st– Johannes Vermeer 1632-1675 (painter) (see Day 156, 266, & 363)
31st– Helmut Newton 1920-2004 (photographer)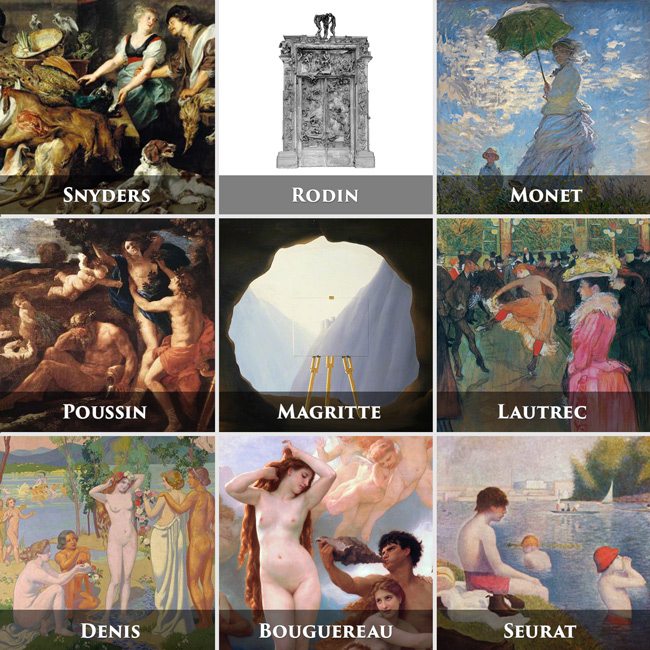 November
2nd– Jean-Babtiste Chardin 1699-1779 (painter)
11th– Frans Synders 1579-1657 (painter) (see Day 37)
12th– Auguste Rodin 1840-1917 (sculptor)
14th– Claude Monet 1840-1926 (painter) (see #370 & 371)
19th– Nicolas Poussin 1594-1665 (painter)
21st– Rene Magritte 1898-1967 (painter)
24th– Henri de Toulouse-Lautrec 1864-1901 (painter) (see Day 79, 338, & 358)
25th– Maurice Denis 1870-1943 (painter)
30th– William Adolphe-Bouguereau 1825-1905 (painter) (see Day 65, 107, 170, 218, 306, & 319)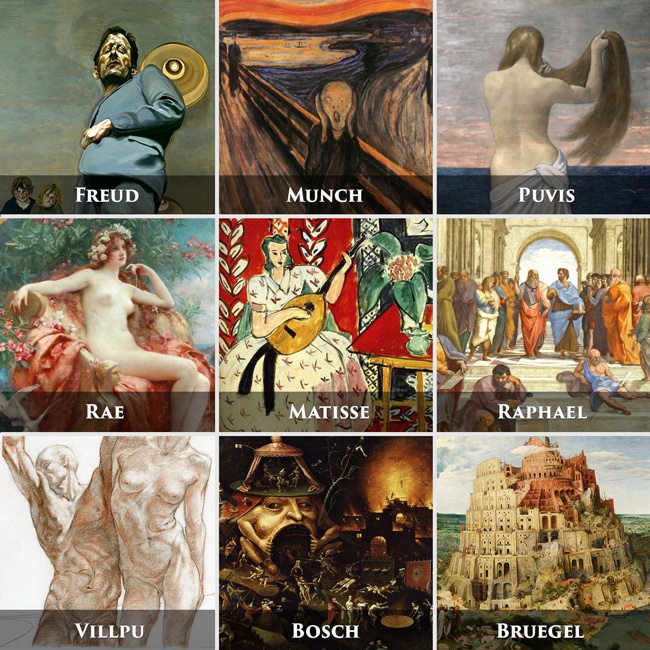 December
2nd– Georges-Pierre Seurat 1859-1891 (painter) (see Day 23 & 67, )
8th– Lucian Freud 1922-2011 (painter) (see Day 292)
12th– Edvard Munch 1863-1944 (painter)
14th– Pierre Puvis de Chavannes 1824-1898 (painter)
30th– Henrietta Rae 1859-1928 (painter) (see Day 317)
31st– Henri Matisse 1869-1954 (painter) (see Day 258, 285, 298 & #374)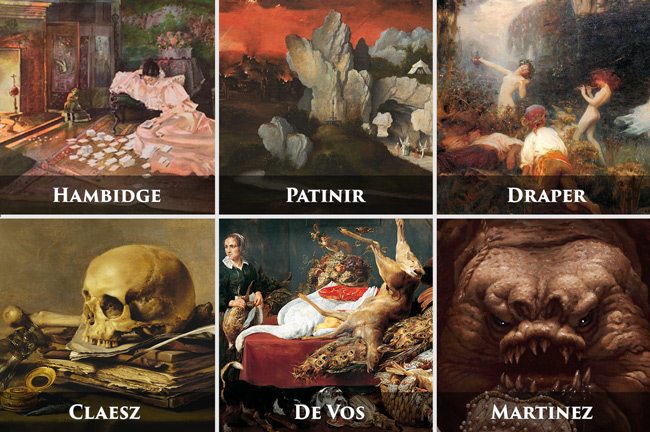 Unknown Birthdays
Raphael 1483-1520 (painter) (see Day 271)
Glen Villpu 1937-present (illustrator)
Hieronymus Bosch 1450-1516 (painter)
Pieter Bruegel the Elder 1525-1569 (painter) (see Day 58)
Jay Hambidge 1867-1924 (painter/author) (see Day 14)
Joachim Patinir 1480-1524 (painter) (see Day 51)
Herbert James Draper 1863-1920 (painter) (see Day 142)
Pieter Claesz 1597-1661 (painter)
Paul de Vos 1591-1678 (painter) (see Day 352)
Arantzazu Martinez 1977-present (painter) (see Day 16)